Savvas Metaxas &
Spyros Emmanouilidis

—


Turbo Teeth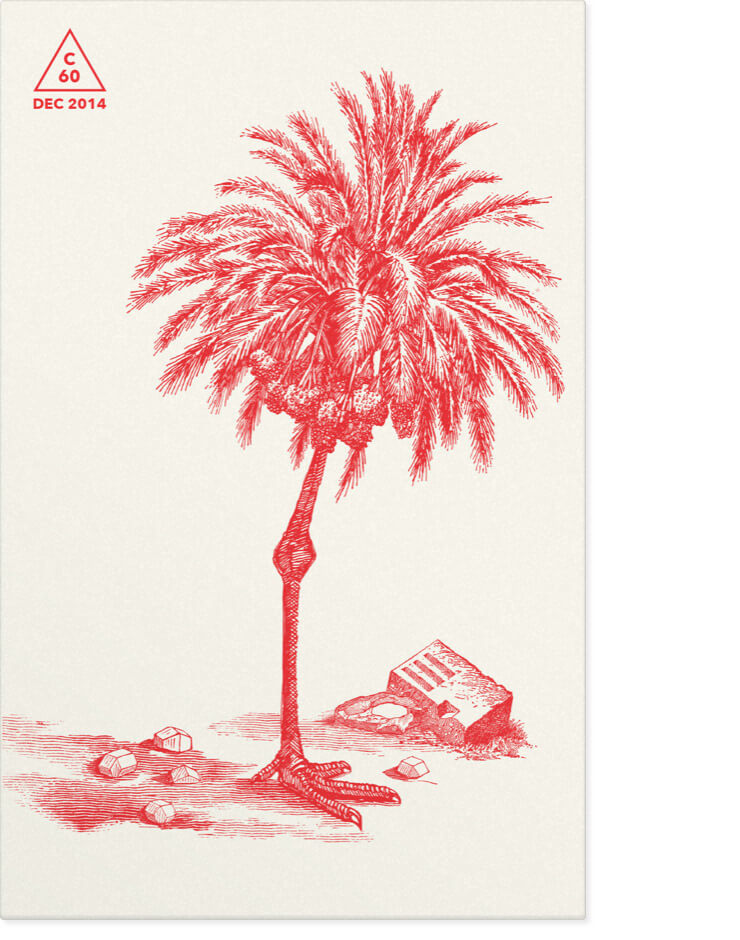 CASSETTE · 100 COPIES
APRIL 2015
MASTERED BY PANOS ALEXIADIS

ARTWORK BY BEND & OPORA
CO-PRODUCED WITH ORILA RECORDS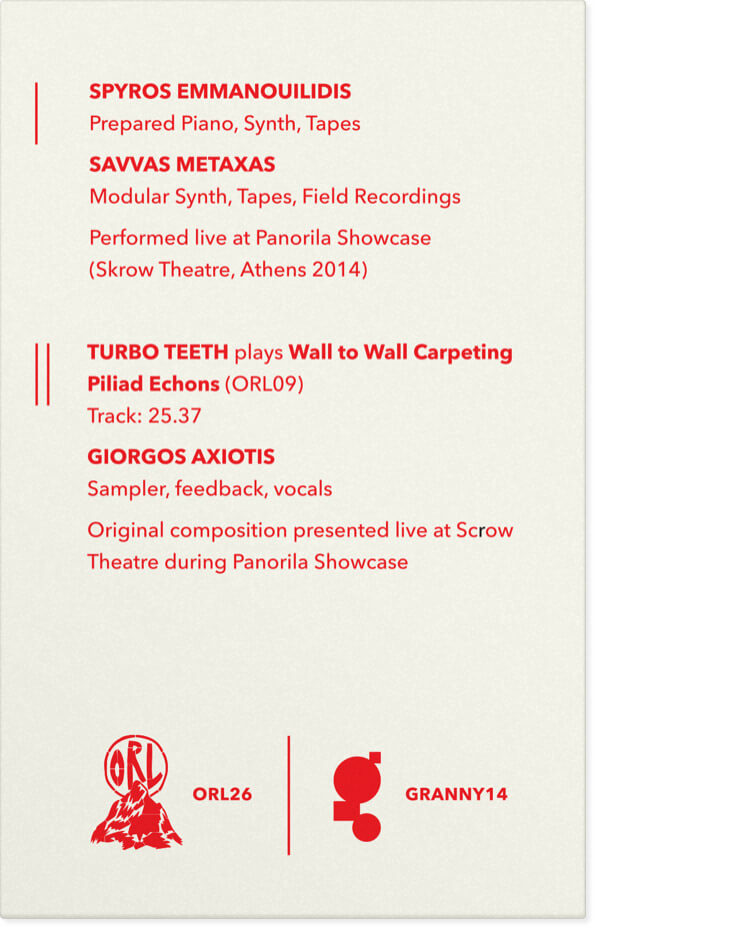 Performed live at Panorila showcase, side A presents Savvas Metaxas & Spyros Emmanouilidis' simultaneous interpretation of drone and concrete music. What you'll find here is a vast sonic palette of prepared piano and processed field recordings interweaved with modular synths and cassette tape feedback. This 26min piece is divided in two parts with the former emerging from an empty claustrophobic space and the latter surfacing shivery voice whispers and feedback to end in an intense drone of bass noise frequencies.
Side B presents Giorgos Axiotis' new take on his previously released Wall to Wall Carpeting / Pilliad Echons (Orl 09, 2013), as performed live at the "Panorila" showcase. Under the guise of his Turbo Teeth moniker, he subjects Piliad Echons to an improvised treatment using samplers, feedbacks and extended vocals, rearranging and remixing the source material and broadening its horizon. Cutting/pasting passages of the original Wall To Wall Carpeting tracks in a mash up manner sharpens the dynamics and unveils new oscillations in the form of stereophonic cluster miniatures primarily based on feedbacks. This is an act of audible cannibalism.
ΔΙΣΚΟΡΥΧΕΙΟΝ — (GR)
Δεν ξέρω αν υπάρχει concept στο μυαλό των δύο συνοδοιπόρων, εκείνο όμως που φαίνεται να υπάρχει είναι η ανάγκη να περιγραφεί μία ηχητική κατάσταση, τολμηρή και υποδόρια, που είναι οπωσδήποτε πειραματική, δίχως να αποσκοπεί στην περιφρόνηση του ακροατή.
Το "Piliad Echons" είναι ένα «κοσμικό» έργο, με την έννοια που είχε η λέξη στο krautrock των seventies, προβάλλοντας μία ταξιδευτική συνισταμένη. Πολύ ενδιαφέρον άκουσμα, που παίζει ανάμεσα στο «σκληρό» και στο «ευχάριστο» και που δείχνει την θέληση και την ικανότητα του Αξιώτη να δημιουργεί αυτά τα εντελώς «κυματιστά» και λεπτεπίλεπτα περιβάλλοντα, που τα διδαχθήκαμε όλοι μας από τον Klaus Schulze και τους Harmonia(και άλλους διαφόρους).
[unex_ce_button id="content_vg1pe799a,column_content_huio83tn1" button_text_color="#000000" button_font="semibold" button_font_size="18px" button_width="full_width" button_alignment="center" button_text_spacing="-0.5" button_bg_color="#ffffff" button_padding="120px 120px 120px 120px" button_border_width="0px" button_border_color="#ffffff" button_border_radius="0px" button_text_hover_color="#ffffff" button_text_spacing_hover="-0.5px" button_bg_hover_color="#000000" button_border_hover_color="#000000" button_link="http://www.grannyrecords.org/work/ratti-lami/" button_link_type="url" button_link_target="_self" has_container="" in_column="1"]13[/ce_button]
[unex_ce_button id="content_vg1pe799a,column_content_njhiftf6n" button_text_color="#000000" button_font="semibold" button_font_size="18px" button_width="full_width" button_alignment="center" button_text_spacing="-0.5px" button_bg_color="#ffffff" button_padding="120px 120px 120px 120px" button_border_width="0px" button_border_color="#000000" button_border_radius="0px" button_text_hover_color="#ffffff" button_text_spacing_hover="-0.5px" button_bg_hover_color="#000000" button_border_hover_color="#000000" button_link="http://www.grannyrecords.org/work/eventless-plot-savvas-metaxas-spyros-emmanouilidis/" button_link_type="url" button_link_target="_self" has_container="" in_column="1"]15[/ce_button]